Mrs. Julieta C. Deguia
June 16, 1944
-
September 14, 2008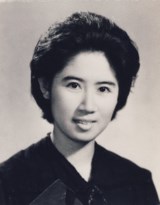 Guest Book
Published:

6
|
Awaiting Approval:

0
Message by Dear friends Patricia and James
-
September 28, 2008
I am Sheri's Mother Patricia.
For health reasons I could not attend the services for Julieta. I thought very highly of Julieta. I will greatly miss the notes an cards we sent back and forth over the years. She will always be in my heart and in my prayers. I am greatful for the opportunity to have known Julieta. I will always remember how sweet she was to me on Sheri and Nathan's wedding day.I am James Patricia and I have been together for a long time. Julieta was a strong family oriented woman who I respected very much. She will be missed by all who knew her. Our prayers are with the Deguia family
Message by Coworker - Lanelle Abke
-
September 28, 2008
As I laid down last night, I thought of things I might say to you this morning about Julietta.

She told me about meeting Eddie on an airplane flight while she was a student, two strangers who met by chance and lived to enjoy their lives together.

She told of special times and vacations, of their both becoming American citizens. They loved to meet and greet people, to dance the night away. She told me how proud she was of her successful family, her wonderful sons and her new daughter-in-law.

Of course, everyone who worked with Julietta respected and honored her work ethic. She was always there when scheduled and filled in many extra hours when coworkers were unable to fulfill their duties.

I think of Julietta each time I pick up a patient's test tube, requisition label misapplied. Many times, I have seen Julietta gingerly dislodge a distorted labe, to carefully replace the original label on the test tube in proper fashion so it could be read by the hematology instrument. She did not waste time and mispositioned labels caused delay in patient results which she did not tolerate.

At times of celebration in the lab, Jules brought her beautiful bowl of freshly prepared pan-sit. Many times she would make sure I got the first cup full to eat on my way home, she made sure I took some with me each time, what a pleasure to enjoy, a special treat definitely to be missed.

Julietta earned many awards while in service at CRMC but far more treasures in friends. She will be missed for her bright, petite self, her winning smile, innocent little chuckles briefly shared with coworkers. She was a supporting laboratorian, a delight to work alongside and we are honored to have worked with her. We miss her very much but we are happy she is not suffering any more and in the knowledge she is with our Lord in Heaven!
Message by TO AUNTIE JULIET
-
September 30, 2008
Dear Lord
O sacred heart of Jesus, to whom one thing alone is impossible, namely, not to have compassion on the afflicted, have pity on us miserable sinners and grant us the grace which we ask of thee throught the sorrowful and immaculate heart of Mary, your tender Mother and our mother, to my Auntie Juliet pray for us and sacred heart of Jesus, I put all my trust in thee.
we love you Auntie
with my prayers
guada and family