Julian Benjamin Binford
December 20, 1922
-
April 20, 2006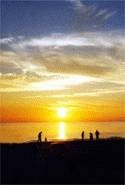 Guest Book
Published:

3
|
Awaiting Approval:

0
Message by Tim, Karen, Matt, and Alison Nichols
-
April 23, 2006
Mr. Binford was a great neighbor. We lived across the road from each other for at least 15 years. He watched Matt and Alison grow up over that time. If we were outside when he was working, he would always come by to talk. When he moved away several years ago we really missed him. On some days when he would visit the boat barn we got to talk to him again. He was always interested in what we were doing. He will be remembered with his big smile and happy wave to us as he left each time.
Message by Cheryl Chesser Garner, one of your step-daughters by Francis Rayburn Binford
-
April 23, 2006
Dear Fran,
I will always remember Julian's many kindnesses to my former husband, Jim Garner, during his illness the last two years of his life.

Now that my son, Ches, is very ill, Julian's cheerful and clever emails lifted us both up when we were discouraged. He took care of the boat sale recently for Ches when he was too sick to deal with it himself.

My younger son, Sam, had just recently remarked to me that he wished for his fiance, Anabel, to meet Julian, as he was one relative that Sam wanted her to meet. I am sad that she won't have the opportunity to know what a unique and talented person Julian really was.

I have been in SC for going on the second week being with Ches so that Stephanie can return to work a few hours each day. Therefore, I was not able to be there in person to express how sad I am to know of Julian's passing.

Julian will never be forgotten by those who knew him and loved him, of that I am certain. I hope you will find peace in that realization- that others will know he is gone and will truly miss his presence.
Sincerely,
Cheryl Chesser Garner April 23, 2006
Message by Greg Landwehr
-
April 25, 2006
I don't know what else to say without going on forever but I want to say something more.
Julian was the type of person no one can forget. He always looked out for my best interest even when I did not want him to do so. He was a bull in a china shop but a loving bull that truly cared about everyone.
I was truly honored to be allowed by his family to be a pall bearer and to deliver a eulogy.
He cared deeply about all of his family whether they were related by blood or hand picked by him personally from those he met in life.
Since the death of my own father, he was the one I turned to and now there is a tremendous void that I doubt will ever be filled. I hope that I have learned enough to fill that void in someone else's life if I ever have the opportunity.