Mrs. Joyce Gresham Johnson
March 12, 1942
-
September 27, 2005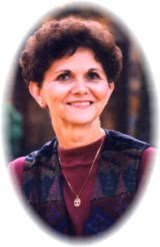 Guest Book
Published:

39
|
Awaiting Approval:

0
Message by PhotoVision
-
November 20, 2005
Joyce passed from this life into the glorious spirit world of Heaven on Tuesday afternoon, September 27, 2005. She was being treated at the Floyd Medical Center for complications from a liver transplant she received at Emory on March 16, 2005. Joyce was diagnosed with a liver disease called PBC in 1992. She never complained and many of you never knew she was so very ill. Joyce was in the hospital much of this year fighting for her life. She desperately wanted to live for me and her family. Joyce will always be my hero and the person I most admire. She was loved by everyone, and it was always a joy to be in her presence.

Joyce has always been the heart and soul of PhotoVision. She has been my inspiration and encouragement since we opened in 1975. Without her energetic help and hard work, PhotoVision would not have survived.

Joyce loved everyone more than she loved herself and she loved unconditionally. She loved me, her children, grandchildren, family, friends, employees, clients and even the stranger she may have just met. Joyce shared her joy and happiness with everyone. She was kind, loving, compassionate, friendly and fun.

Joyce loved to shop, take the grandkids to the movies, eat out and travel. Some of her favorite Christmas trips were going to Disney World, Universal or cruising with her family. She loved going to the beach each summer and Gatlinburg each winter. She also loved to go to Las Vegas where many of our professional portrait seminars were held. Some of her most memorable trips were to Hawaii, England, France, Italy and Israel. She especially loved Venice and wanted to return there when she recovered from her transplant.

Joyce has always been the love of my life. I remember sitting next to her in the second grade, buying her gifts and sending her love notes. She always sat behind me in church with her girlfriends and I remember her tickling my neck and giggling during many of the services. Joyce and I dated through high school and married a year after graduating. We have been very happily married for almost forty-five years. Her spirit is still with me every day, and our love for each other will never end. We will always be soul mates. I am looking forward to the day when I pass from this life to the next so that I will be with my Joyce again.

Cindy and I, with the help and guidance of Joyce's sweet spirit, will continue to create portraits for our loyal and loving PhotoVision clients. Please be patient with us as we try to work through the terrible pain we feel each and every day because of the great loss of our dearly beloved Joyce. We miss her so much.

If you have fond memories of Joyce that you would like to share, it would truly warm our hearts and the hearts of our families. You can do this by clicking "Send Tribute" on the right hand side of this page. Also, there is a beautiful picture presentation of Joyce's life that you can go to by clicking on "Movie".

With Love,
Larry & Cindy
PhotoVision Portrait Studio
Message by Your loving daughter, Alicia
-
October 1, 2005
When I was very young I remember my mom going to work for the first time and leaving Eric and I in a day care so that she could go. I don't remember much about that day except for the fact that they made us lay down to take a nap at some point. While I lay there on my cot, wishing that I were at home, I heard a voice in the other room. It was mom and she wanted to check on us, but they wouldn't let her see Eric and I because we were napping. I had the most incredible ache hearing her voice and wanting to be with her and I just lay there and cried wishing that she were holding me. Well, after that day of work was over we never went back to that place again. She made sure of that. I truly feel like I am that little girl once again.

Mom loved cleaning, organizing, shopping, movies, popcorn and junior mints, cooking for the multitudes, having her hair and nails done, traveling, jewelry, flowers, watching Desperate Housewives and Lost, and giving parties. She didn't like to sit still and I don't think she ever did.

Mom was the perfect wife. She taught me about love and marriage by example. When dad quit his job at the carpet mill and came home and announced that he was going into business for himself, mom was scared to death. The security she had always felt was gone, but she worked hard and helped his dreams to become a reality. She was supportive of dad in all of his research and adventures. They communicated about everything. I used to enjoy listening to them when I was in bed talking about the day and their thoughts. They were together every day for the past 30 years. There was nowhere one went without the other. She loved him with all of her heart and soul. The love between them was obvious and I don't think they ever said a cross word to each other.

Mom was a fantastic sister and daughter. She worried about those she loved and encouraged them in every way she could. Christmas shopping trips will not be the same without her. She could out shop all of us.

She loved her grandchildren, nieces, and nephews very much. Of course she always took their side in discussions. She was my children's best friend. Mom was always at every event my children participated in….baseball, soccer, basketball, concerts, plays, Webelos ceremonies, Eagle Court of Honor, and birthdays. Just two weeks ago she sat in a wheelchair on Broad Street to watch Daniel in the Homecoming Parade. They loved her homemade hot chocolate, chocolate sheet cake, spending the night, going to the mall with her and to movies. On our very special Christmas vacations she would take each boy and stand with them and tell them to look at the scene, close their eyes and picture it again to make a memory. Mom told them that this way whenever they were sad they could think happy thoughts and remember the good times. We have made many wonderful memories with her. She was their guardian angel, their very special friend.

I will never forget …..fresh baked cookies, eating cookie dough, lying in the floor
coloring with her, shopping for the perfect outfit, going to Osmond concerts when she probably would have rather been at a Tom Jones concert (which we did go too), vacations to the beach, waiting at the airport to start wonderful adventures, snowcream, and sitting and talking about things I had on my mind.

There are no words to express the love that I have for my mom. She was an incredible woman who was loved by many people. Mom had the gift of making people feel welcome and loved no matter where she was. When I was a teen-ager, mom made my friends feel like they were part of our family. People that she worked with enjoyed her company and felt close to her. Every employee that they have had at the studio has become a close family member for us. Children they photographed at the studio loved her. She would always entertain them with a frog jumping off her head or bubbles. She had the ability to get them to smile without telling them to. This is not an easy thing to do. I tried to help dad out a couple of times while mom has been ill and it is so much harder than it looks. They always knew that Ms. Joyce would have candy for them and a gift from the Treasure Box. She made the studio such a fun place to be. Even in ICU at Emory the nurses fell in love with my mom and dad. Mom was not one to complain about whatever procedure they were going to have to perform. She would smile and make a joke in spite of the pain she was experiencing.

Life with mom has been a great experience. She has been a wonderful mother and a great mentor to me. My goal in life when I was younger was to be like my mom and it continues to be. She was so humble and didn't even realize that she had touched so many lives and made a difference. You know, there is a Cherokee expression that says, "When you were born, you cried and the world rejoiced. Live your life so that when you die, the world cries and you rejoice." I do believe mom is rejoicing and I know that her passing is a great loss to the world.
Message by Your grandson, Daniel
-
December 25, 2005
I miss her a lot, and it's hard all the time. I know she's still there but her not being there physically is still hard. My best memories are from the vacations. I always used to love to sit in your room and watch you both get ready for a nice dinner. You would be shaving, she would be doing make up and curling her hair. It was somehow comforting and I relished in your routine, it always seemed the equivalence of warming yourself by a fire. Though this was a big impact, the biggest is when Nina would take us to make a "mental picture". I still remeber the first one we made at Epcot looking out over the water, all those lights twnkling in the reflection, the cool night air across my skin, and Nina's arm around my shoulder...things you can never catch with a camera. And so every year we would do a different one, I have a whole album full of them, even one's she wasn't there for, like in Europe. She left something with me that doesn't come in a box or in the mail, something that not even time can erode. Memories are gifts that people give whole heartedly without even knowing it, giving you the gifts that they won't be there to give, almost like they are preparing you. It's taken me a long time to work all this out, to mull it over and over. Sometimes, I still think she's at the hospital and so thngs seem alright. That is, until Christmas comes, or big events, or even birthdays, and expect her to be there and she's not. It's an emptiness that I belive she prepared me for with the memories and mental pictures. In my opinion, she has given me something that will last Christmas after Christmas, and that is worth more than money could ever buy me. I guess what Im saying is that it's never good bye but rather 'Merry Christmas'. The memory is there to support the spirit and so she will always be there every Christmas and every other get together and so I'm at peace knowing she is there. I love her dearly and will continue to do so and with that, I wish you both a Merry Chistmas.

Love Always,
Daniel